vCard Editor 2.4 for Mac
vCard Editor is an application to create and edit vCards directly.

It lists contacts in the vCard in the column with each type, and has sort option in the column. It also has find&replace function.
vCard is a file has an extension vcf and used to exchange contact information between various contact applications. Not only Apple Contacts but also such applications can import/export the file.
vCard Editor also has a feature of reading CSV file and showing a contact as QRCode. You can save the QRCode as a image to print on various materials.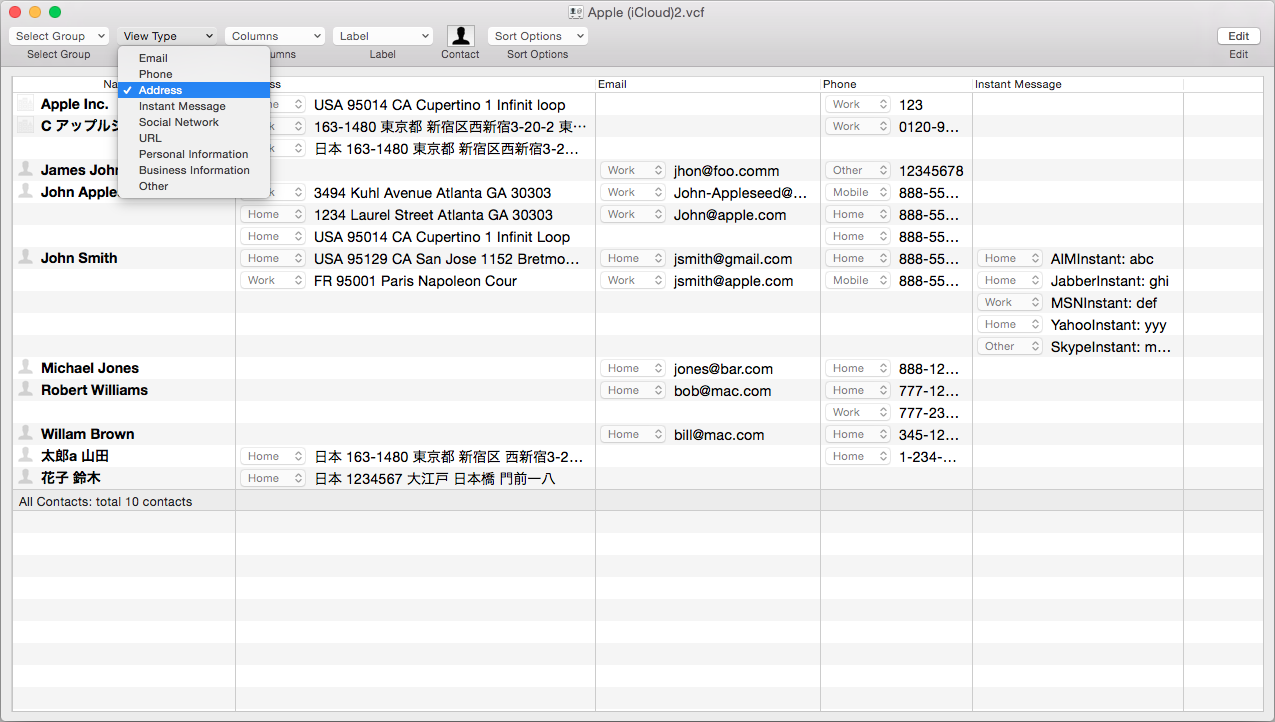 vCard Editor for Mac | USD3.99
Please download the trial version from here. You can edit but can't save your vCard.
What's new in vCard Editor 2.x
Add a new view type: Address Detail for showing address items separately.

Add a bulk change function of labels or values.

Expand sort options to such as Mail domain and Mail username.


Name: first name/last name
Address: ZIP/State/City/Street/Country
Email: Email address/domain/username
Social Network: address/service type/username
Instant Message: address/service type/username
Features
Editing vCard file

Reading CSV file and exporting as CSV

Sorting in a column and find&Replace by TextFinder

Showing QRCode in various formats

Changing font and size
Enabling to access your contacts
When you launch vCard Editor at first time, you will see an alert for enabling for vCard Editor to access your contacts. Please enable the access, because vCard Editor uses AddressBook.framework to decode vCard file. It requires the permission.
If you didn't, please enable it by opening the System Preferences. There is a privacy pane in the "Security & Privacy" preferences. Then select the checkbox for vCard Editor in the pane. vCard Editor uses AddressBook.framework but actually doesn't access your contacts.
Reading vCard and editing
vCard Editor can open a vCard file directly then lists it in a table.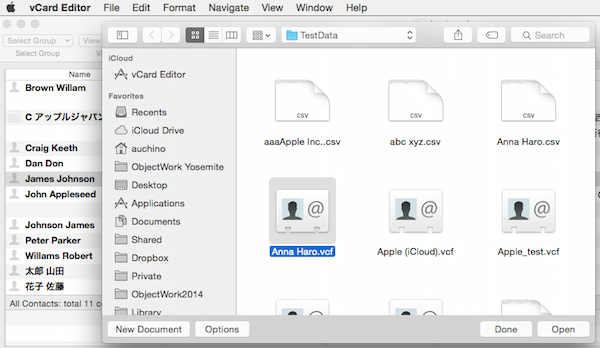 The data is shown in a column separately. Each column has a sort option, it will help you finding duplicated data easily.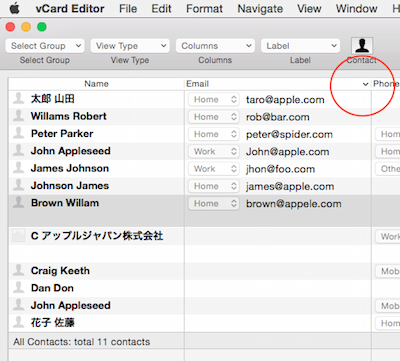 If the data has a label, a designed panel for the type is opened when you double-click the cell in editing mode, or double-clik the cell with holding a command key.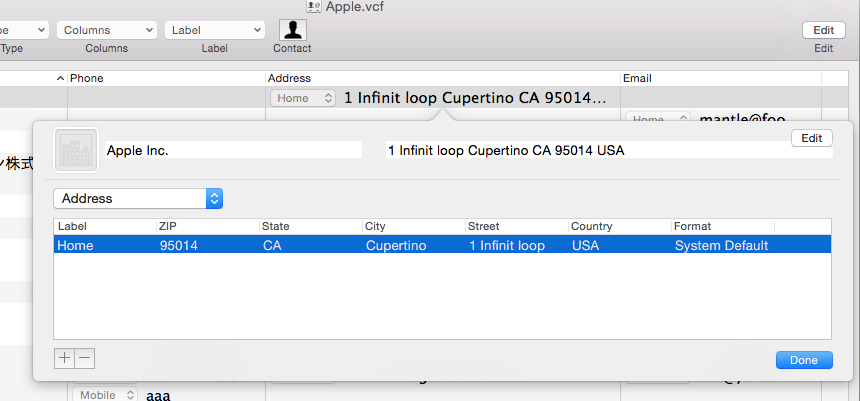 And vCard Editor uses TextFinder for Find&Replace which is introduced in OSX 10.7. You can find a word by name and by other categories with various options including a pattern, and replace it.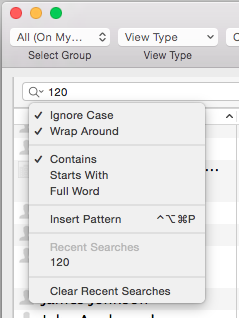 As the new view type "Address Detail", the Columns menu has new Address items: ZIP, State, City and Street are selectable by as below.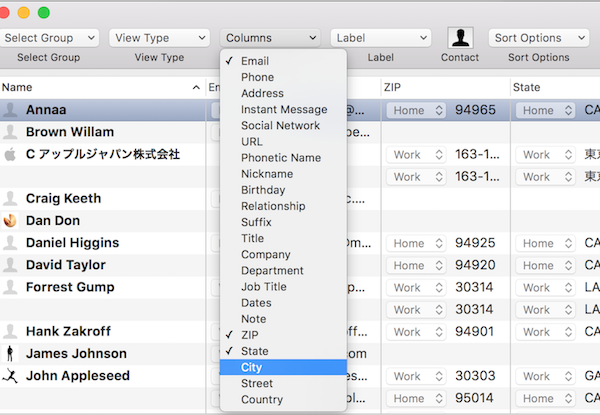 Each item has a own label, but it is coupled with other items of address. For example when you change the labe of ZIP, then the label of State is also changed.
The bulk change function
You can change labels or values of selected multiple rows at once.
Select multiple rows, and change the value of one of the cell by double clicking the value. Then an alert is shown for setting a label or text. When you select OK, the labels or values will be changed as it is entered.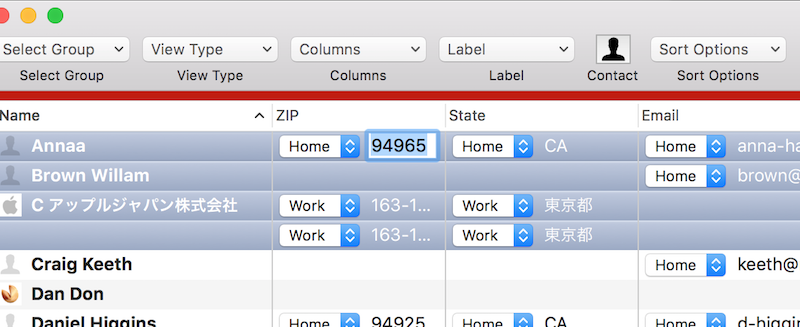 Cell Context menu for editing cells
When you ctrl+click on a cell in editing mode, the context menu of cells will be shown as below image.
As the menu is saying, it is for replacing/appending/deleting text. You can edit multiple cells at once, when multiple rows are selected.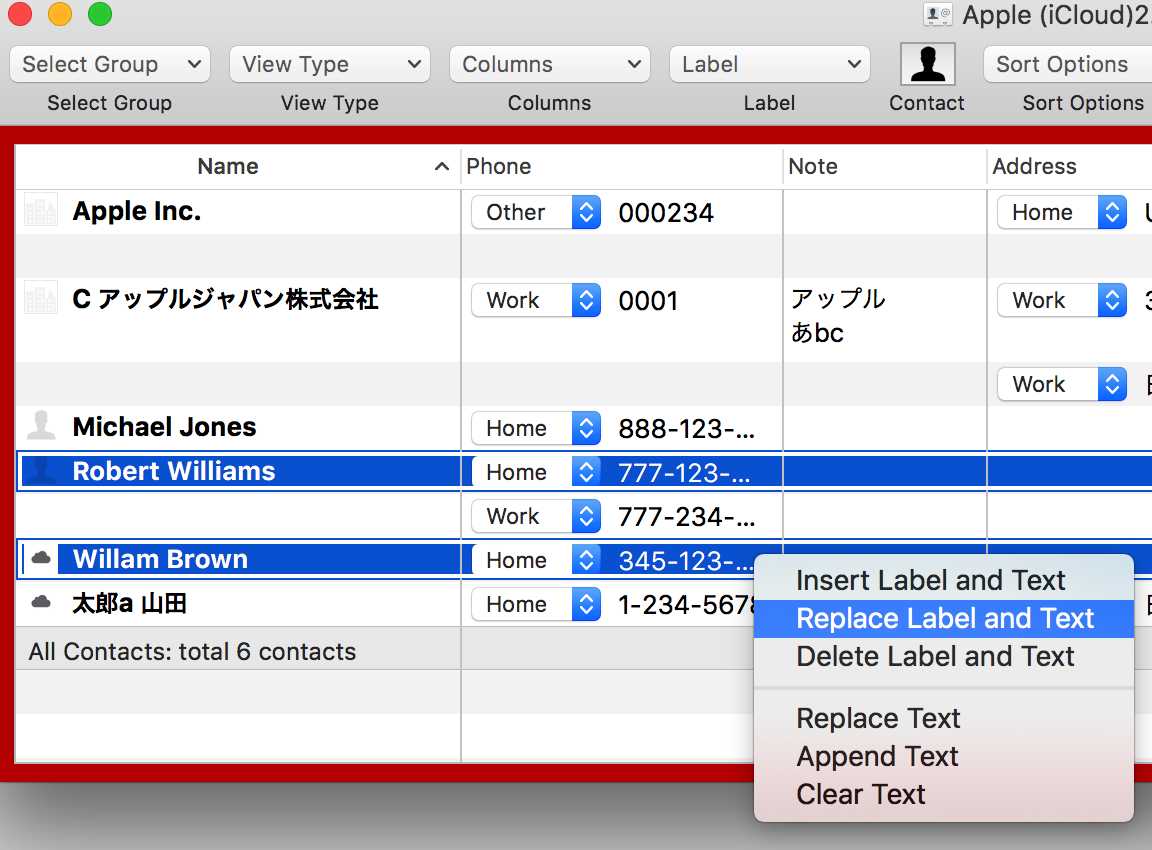 Text Encoding
vCard Editor can select a text encoding when it opens a vCard file. Selecting an proper text encoding is important if the file is written in vCard format 2.1 and contains a non roman character.
There's an encoding menu in the open panel. Please select an appropreate encoding in the menu.
Reading and exporting CSV
vCard Editor can read and export a CSV file.
You can open a CSV file as same as a vCard file through the open menu.
When you open a CSV file, it is converted to vCard internally, so you need to rename it when you change anything in the file, or to select the "Export as CSV" menu.
vCard Editor expects the items in a CSV file are ordered as the following way. But if the file has a line at the beginning to designate the items order, vCard Editor the items as the specified order.
Please check the sample file if you want to add the items list.
Name,Home Phone,Work Phone,Other Phone,Home Email,Work Email,Other Email,Home ZIP,Home State,Home City,Home Street,Work ZIP,Work State,Work City,Work Street,Other ZIP,Other State,Other City,Other Street,Birthday,Title,Company,Department,Job Title,First Name,Last Name
download sample csv Sample CSV File
Showing QRCode
vCard Editor can show QRCode of the selected contact information, and you can Copy&Paste the image to other documents.
Changing font and size
You can change font and size in the row of Table.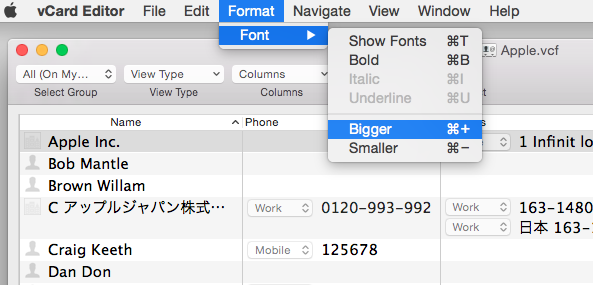 ---
Other features of vCard Editor
Drag&Drop vCard
You can drag&drop contacts between vCard Editor's 'documents and Apple Contact or Apple Mail.
And when Groups are visible, Drag&Drop can be used to add a member to a group.
You need to click the Edit button before dropping the item.
At vCard Editor 2.2, the format of the dragging item is changed to a vCard from a text. It is that a row is copied as vCard into a paste buffer when you select it, then the item is copied to the destination when it is dropped. For example, when you drag a row to Text Edit, the row is copied as vCard in the window of the TextEdit.
"Copy" and "Copy as CSV"
The "Copy" and the "Copy as CSV" menu in the Edit menu, are used to copy the select row as "Text" to a paste buffer. When you select the "Copy", items in the columns are devided by a tab, but when you select the "Copy as CSV", they are devided by a comma. So when you chose "Copy", you can paste the row in the table of Numbers or Excel as what you see.
Printing
Select a contact and then select "Print" from the File menu. You can select multiple contacts by cmd-click.
There's a configuration panel in the print dialog to select a value to print. It is in the "vCard Editor" menu.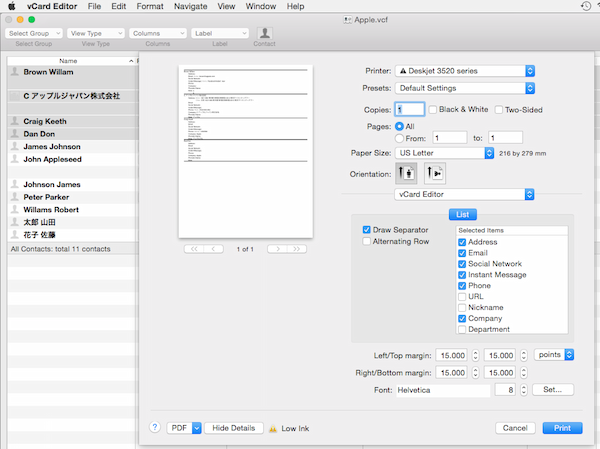 ---
Operating system requirements:
vCard Editor works in Mac OS X 10.7 and later.
How to Install the trial version:
Double click on the zip file that you downloaded, then the vCardEditor-Trial.app is created.
Uninstallation:
You can just delete this software from the installed folder in order to uninstall this software.