Second Contacts for Mac 2.5.
Second Contacts is a integrated application with AddressBookAid and vCard Editor which is dedicated to editing contacts from vCard or AddressBook. The table view style and powerful sort and find&replace functions make it easy for editing contacts. And you can move or copy contacts between vCard and AddressBook windows by drag&drop.
Also Second Contacts for Mac shares vCard files in iCloud with Second Contacts for iOS.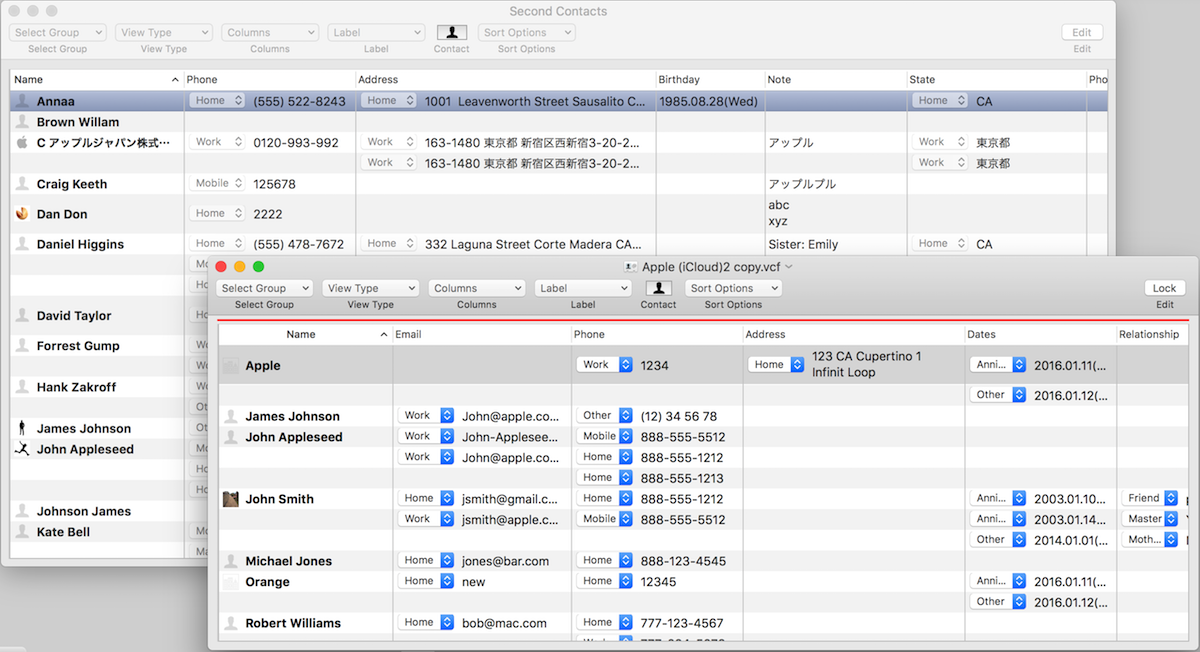 Second Contacts for Mac | $10.99
There is a trial version. You can edit but can't save your vCard.
Enabling to access your contacts
You contacts is protected in your system.
When Second Contacts for Mac is launced at first time, an alert for enabling access to your contact will be shown. Please allow Second Contacts to access your contacts, otherwise Second Contacts doesn't work.
The other way is allowing Second Contacts to access your contacts in the System Preferences.
When you open the System Preferences, there is a privacy pane in the "Security & Privacy" preferences. Then select the checkbox for Second Contact in the pane.
What's new in Second Contacts for Mac 2.5.
Add a compare panel for comparing arbitral two contacts and editing them by drag&drop.

Add an action in the context menu of the table cell such as opening a mail message, a map of address.
Second Contacts for Mac
Read/Write AddressBook stored in your Mac by Apple Contacts.

Read/Write vCard.

Drag&Drop between AddressBook and vCard.

Read/Write vCard stored in the iCloud by iOS Second Contacts.

Column sort and Find&Replace by TextFinder.

Comparing arbitral two contacts and editing.

Bulk edit function of date in the selected multiple cells.

Show a contact as QRCode with various formats.
New features in Second Contacts for Mac 2.5.
The compare panel
The compare panel is for comparing arbitral two contacts in the vertial table.
In the editmode, you can change the value and move/copy between contacts by drag&drop.
In order to copy the value, dragging value with holding control key.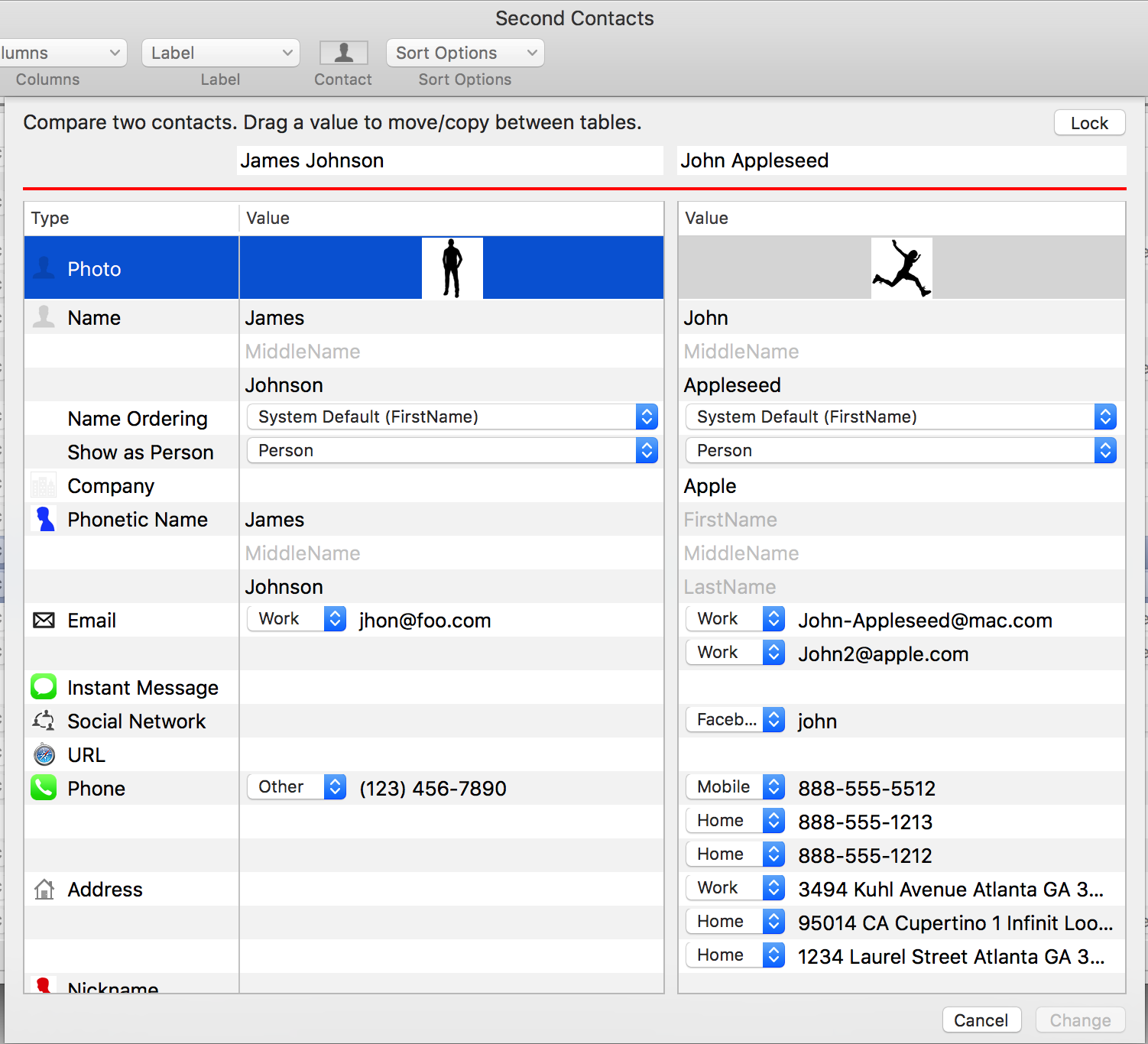 Action by the context menu
When you contro-click the cell, the context menu will be shown as below. Some cells have a action such as opening a mail message, a map depengin on the type of the cell.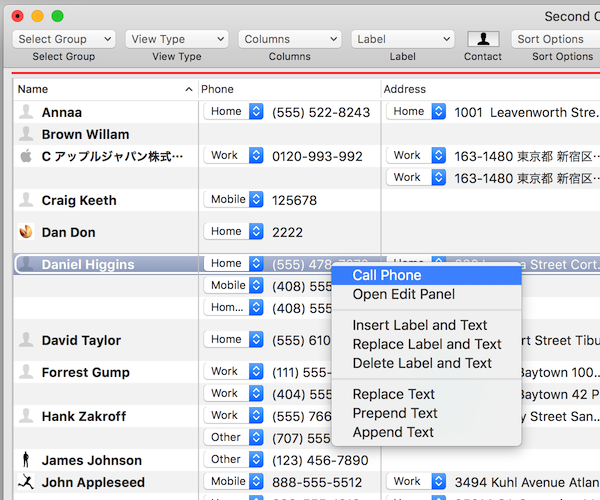 In the edit mode, some edit menu will be enabled in the context menu for inserting a value or replaceing the value in the selected cells. If multiple cells are selected, the operation works for the selected cells.
Features
Read/Write AddressBook directly
Second Contacts can read and write AddressBook which is managed by Apple Contacts application.
When Second Contacts is launced, the contacts by Apple Contacts are shown in the AddrssBook window in the table. You can select which type of data is shown in the window by selecting view type or columns. Since each column has the sort function, you can find the difference between the contacts easily.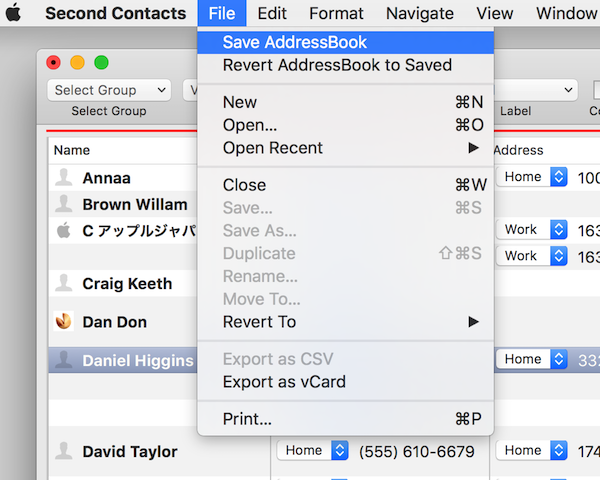 Read/Write vCard
Second Contacts can read and write a vCard file and a file which is stored in iCloud by Second Contact for iOS.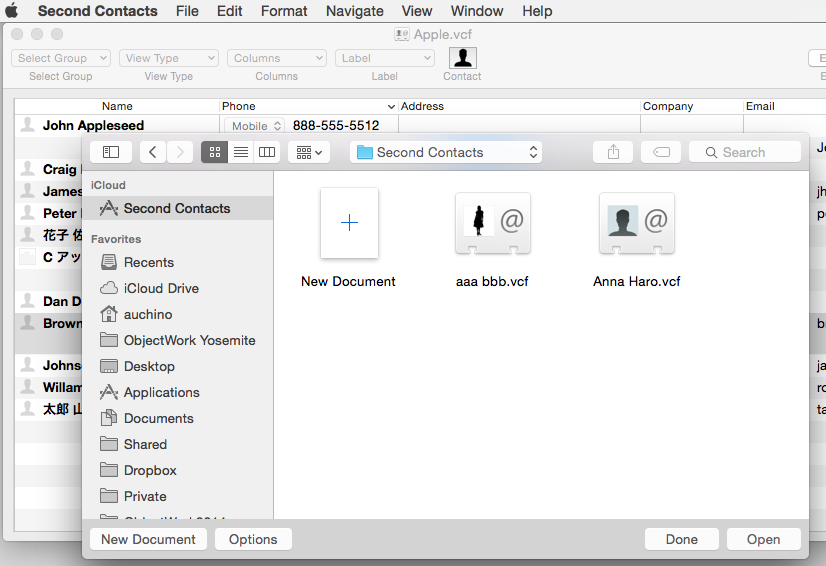 Contacts are listed in a table of new window such like AddressBook.
You can select which data will show in the column such like phone, email and address. Each column has a sort function. and you can find&replace the any value. The find&Replace uses OS X TextFinder which has a pettern match feature.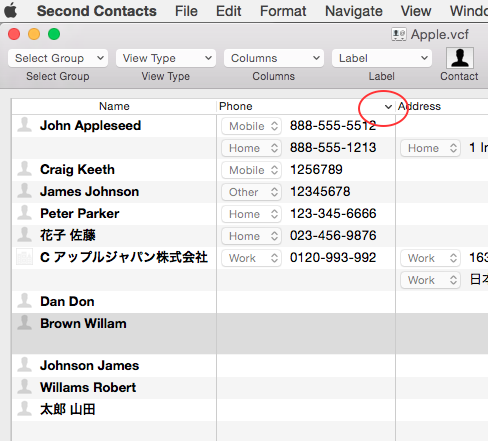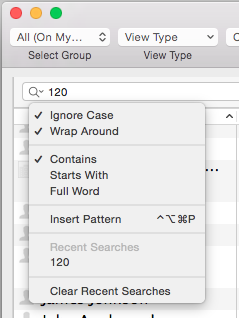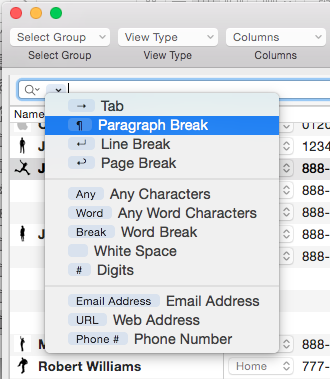 If the data contains multiple values, a popover panel is used to add/delete values and edit them. The panel is opened when you double click the cell in editing mode or double click it with holding a command key.
As the view type "Address Detail", the Columns menu has new Address items: ZIP, State, City and Street are selectable by as below.
Each item has a own label, but it is coupled with other items of address. For example when you change the label of ZIP, then the label of State is also changed.
The bulk change function
You can change multiple labels or values at once by selecting multiple rows.
Select multiple rows, and change the value of one of the cell by double clicking the value. Then an alert is shown that changes can't be undone. When you select OK, the values will be changed as it is entered.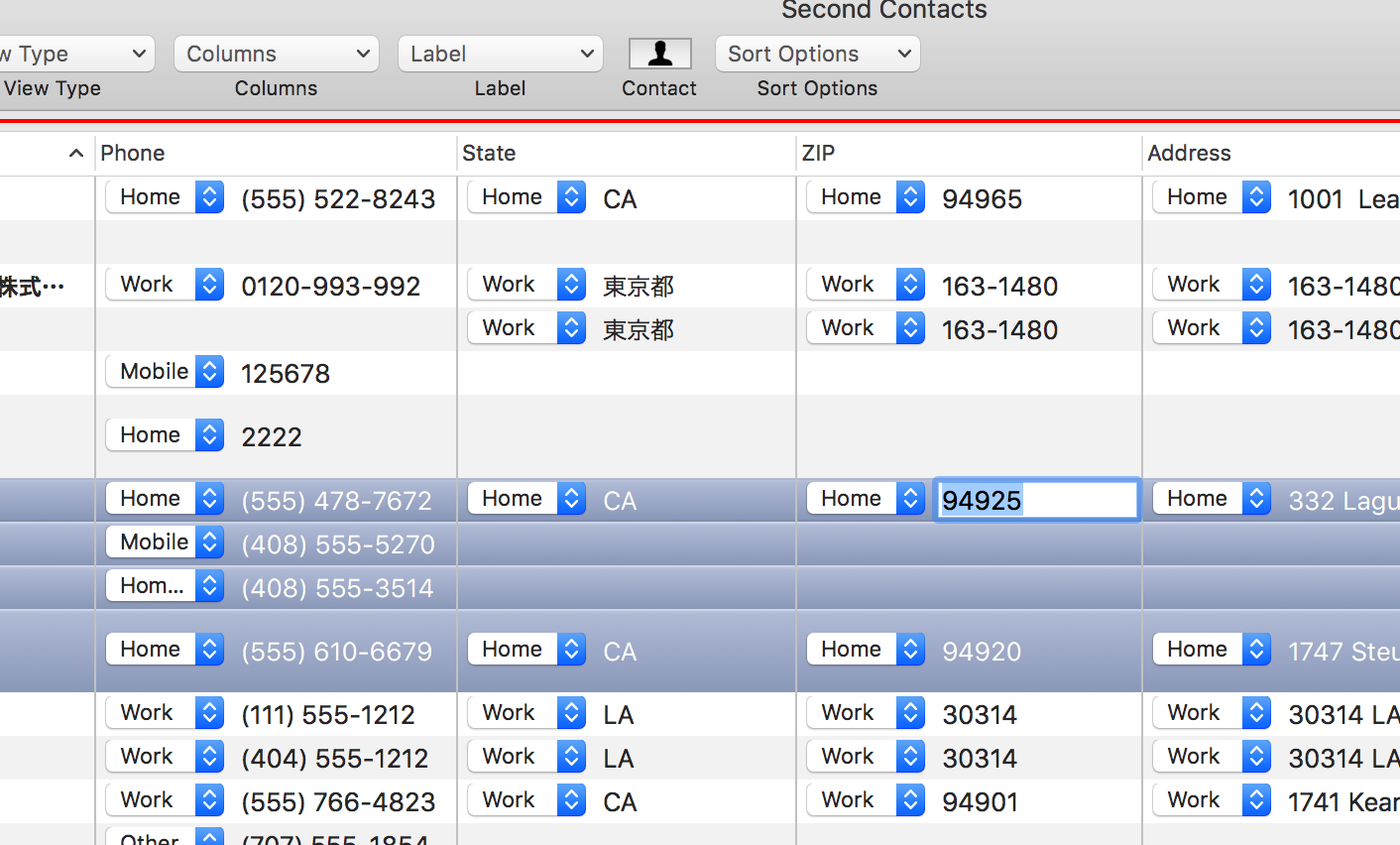 Text Encoding
Second Contacts can select a text encoding when it open a vCard file. Selecting an proper text encoding is important if the file has a non roman character.
There's an encoding menu in the open panel. Please select an appropreate encoding in the menu.
Show a contact as QRCode with various format
Second Contacts can show QRCode of the selected contact, and you can Copy and Paste the image to other documents.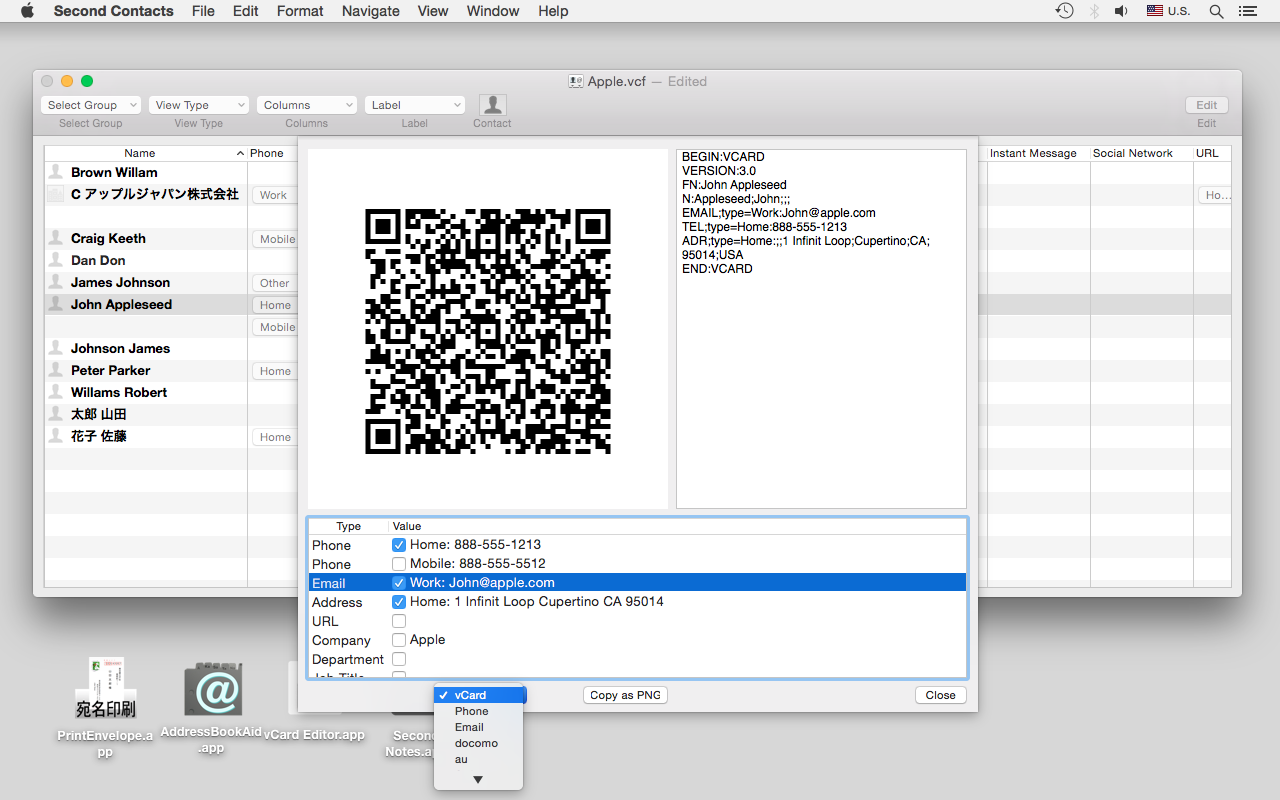 Dynamic Text
You can change font and size in the row of Table.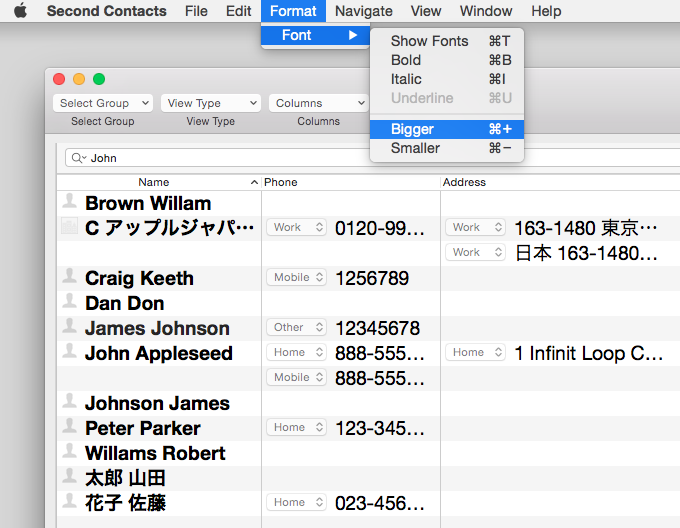 Other functions
Edit mode
Edit button protects you from accidental changes. The window frame color is changed to tell you in editing.
Command-Double-Click
When you do Command-Double-Click on a cell that has multiple values, a popover panel will be shown to show the detail values of the selected type of cell as below.
The panel can be used to add/delete/change the values in the editing mode too.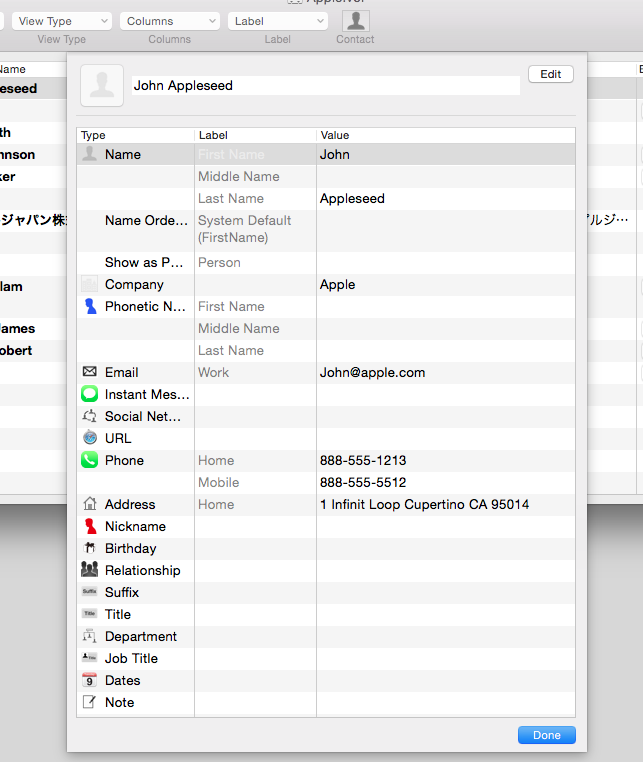 Export CSV
Second Contacts can export a CSV file.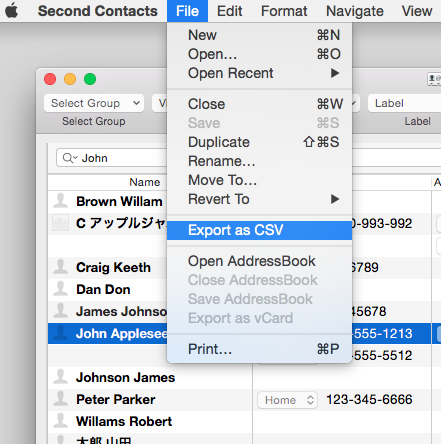 Drag and Drop vCard 
You can drag and drop contacts between documents and from Apple Contact or Mail.

Printing
Select a contact and then select "Print" from the File menu. You can select multiple contacts by cmd-click.
There's a configuration panel in the print dialog to select a value to print. It is in the "Second Contacts" menu.
Operating system requirements:
Second Contacts works in Mac OS X 10.7 and later.
How to Install the trial version:
Double click on the zip file that you downloaded, then the Second Contacts Trial.app is created.
Uninstallation:
You can just delete this software from the installed folder in order to uninstall this software.